She's amazing.
She's thriving.
She's annoying.
She an awesome big sister.
She's loud.
She's hilarious.
She's messy.
She sings and dances like the world is her stage.
She laughs and she cries.
She's a horrible hider and a wonderful fort builder.
She's compassionate and understanding, even when she's difficult to understand.
She has an amazing memory.
She knows how to get what she wants.
She loves her friends fiercely.
She's ridiculously cute.
She's an observer, far from a daredevil.
She surprises us every day.
She's so much like every other kid you know.
She's also a little bit different.
She's all of this and so...much...more.
She just wants to be given the chance to show you.
I guess I'm in for 31-for-21.
Stick around. Maybe I'll say something you like.
I'm rusty, so bear with me...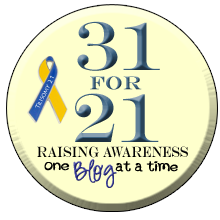 Grab This Button