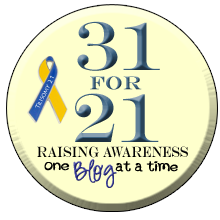 Grab This Button
I read a book this week.
It was one of those books that stayed with me long after I had put it down.
It was one of those books that made me look forward to the children being content in their beds at night so that I could read again.
It made me think.
It made me sad.
It made me scared of how it would end.
It's called
Wonder
.
Am I the last person to know about it? That's totally possible. It came out earlier this year and I've been a bit...busy this year.
It's classified at Young Adult Fiction, so it's a fast read.
It was brought to my attention by a fellow mother of a child with Ds.
Have any of you read it?
Interested?
I had been planning to go to a discussion about it tonight, but I couldn't quite work out the logistics.
But I really want to talk about it.
The themes so closely tie in to what I sometimes feel and, well, wonder, being my daughter's mother.
That's one perspective I would have loved to see (the book tells the story through the eyes of multiple characters): the parents. Did they see their son differently, truly? What were their fears? What were their dreams for him?
If anyone has any other recommendations for me, please share. I'm itching for some new, enlightening reading material now.