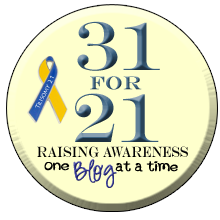 Grab This Button
Playette has a bit of a full social calendar the next few days.
Today, I took her for her first salon visit. It was way past time for her to get a trim (5+ years!) and I figured if this lady was able to work her super duper magic on the mess (read: MESS!) of a head I brought her last week, surely I could trust her with baby girl.
So, there was washing and blow drying and cutting. We didn't opt for any styling this time.
Which may seem odd because tomorrow? Picture day.
Aww. My bay-uh-bee!
I figure I don't want her looking unlike herself anyway. No need for curls or wearing it out. She will look like she did today and last week and how she will next week.
I remember school pictures being sooo stressful for me as a kid. Everything had to be just so and if it wasn't? Yikes. One day I'll have to share my
"horrible" second grade picture. You know, because both barrettes weren't facing forward.
So, yeah. None of that. Just a nice shirt and a smile should be perfect.
I'll pick her up from school and head straight to a wedding rehearsal. She's going to be a flower girl on Friday.
Aww. My bay-uh-bee!
The bride is her former babysitter, one who adored Playette so much that when she moved two hours away, she would still come back just to spend time with our girl. We consider it an honor to be present at such a special occasion in her life.
Bonus: We've never met the bride's family and her brother is groomsman. He also happens to have Ds.
Y'all know I love being around people who "get it."
This should be awesome.
I can't wait to share pics of Playette in her beautiful (black!) gown.
She's so excited.
Aww. My bay-uh-bee!