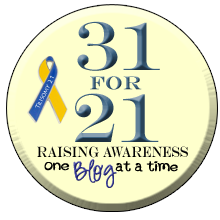 Grab This Button
A while back,
I wrote about Playette's graduation
from her Pre-K program.
In that post, I mentioned what she desires to be when she grows up.
I just came across this video, not a perfect documentation for sure, but it brings back all the emotions.
When she points at the end? That's her seeing me in the crowd...bawling.
The thing about it is, it wasn't just pride that I felt - which I did, I totally did - that brought me to tears.
It was also the realization that the odds are against her childhood wish coming true.
By no means do I think that one must be a parent to feel complete. It's just different when you want to be and don't have the option. Or that maybe you shouldn't.
It's complicated.
And way too heavy for this mama of a five-year-old to delve into today.
Let's just focus on the cute, shall we?
For more clinical information on this topic, see
here
.