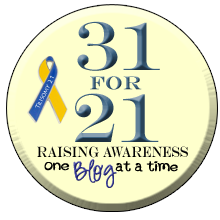 I thought there may be have been more interest in the sight word issue, so I had planned to share more today, but maybe that's my own feelings talking?
That's ok. At least it's here for posterity.
I had another video that showed us playing a game, but the quality is really bad. No idea why. I'll have to try that again sometime.
This one here was taken a couple of weeks ago. On a
really
sunny morning before school. Hence the weird lighting.
Also, you can catch some of the articulation issues I mentioned yesterday.